The eruption of the Tonga volcano is exactly what nature warned us to protect the natural environment. Pearl Venus brand of the Pearl brand is raised from freshwater. We hope to spread beauty while protecting the environment.
Valentine's Day is the most romantic day of the year and is often synonymous with hearts, flowers, and of course, chocolate. This year, why not get creative and gift that special someone in your life with a beautiful piece of fine jewelry? When in doubt, jewelry always makes a great gift. Whether it's a luxury necklace that can be saved for once-in-a-lifetime events or a simple pair of hoops that can be added to their everyday rotation, great jewelry has a place in nearly every wardrobe no matter the occasion.




1 . Rings are always the best choice
Rings offer a versatile style because they easily can be paired with an engagement ring or worn separately. Pearl Venus brand represents endless love and partnership, making them a great Valentine's Day gift idea for your wife, especially during an anniversary year.
Baroque Pearl Ring - $88
This beautiful ring is decorated with a real baroque pearl; pale pink with a slight pink hue; untreated colour; freshwater pearl; Embrace the cool, organic beauty of this baroque pearl statement ring!
A new take on classic hoops with freshwater pearls which are elegant and classic, with cut out prongs around the circumference of the pearl.


2. Natural freshwater pearl earrings
The price of the following pearl earrings is less than $100. They are all high-quality pearls from nature and these earrings are also popular in 2022. Choosing any one of them for your lover is a great choice!
Classic Pearl and Zircon Stud Earrings -$96
A series of intersecting diamond sparkling diamonds with natural freshwater pearls is a very good gift.


Hoop Pearls Earrings-$76
Chic and stylish! These gorgeous hoops feature 4-5mm cultured freshwater pearls in a circular motif with polished 18K yellow gold.


Vintage Gold bow Long Pearl Earrings-$65
Earrings are also very attractive to women. Five pearls are connected, which is a very classic one



3. Crystal Floating Pearl Bracelet -$69
Solidify your connection with this aptly named bracelet. It features five pearls on a 14-karat gold chain, meant to symbolize harmony and love. It's a delicate piece that'll add a sweet meaning to her next outfit.

4. Mini Crown Circle Pendant Necklace -$119
We love this one and there is no doubt your Valentine will too. This pearl necklace features a beautiful arrangement of high lustre pearls. This simple but delicate collection. Perfectly embodies minimalist aesthetics. A classic pearl necklace for women. This makes the perfect gift for anyone from best friends, bride-to-be, or expecting parents.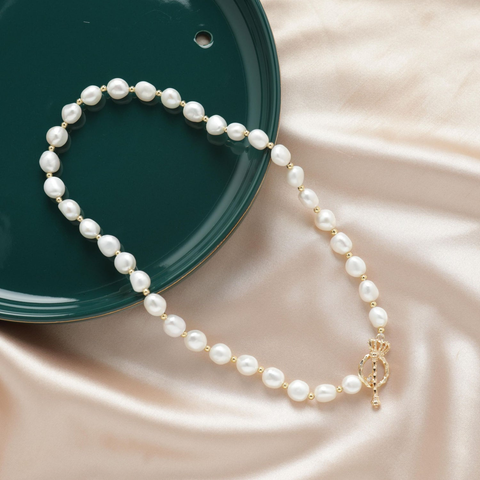 Now that we've given you some options to consider, which piece of jewelry will show your love this Valentine's Day 2022? Whether you select a symbolic pendant, set of pearl earrings, or a pearl ring, we think she will love the care and consideration you put into your final choice. But most of all, she will appreciate how much you love and care about her.