Walking across the stage to receive your high school or college diploma is a major life moment that's impossible to put a price on. It doesn't matter if they're leaving high school behind, graduating from college, or completing a Master's program: Every graduating student deserves an epic celebration. And whether you are able to celebrate this major achievement with them in person, or as part of a virtual graduation celebration, you'll want to pick out a unique and memorable graduation gift to highlight their phenomenal accomplishment.
The perfect graduation present for the out-of-the-box graduate in your life probably isn't cash or a gift card. Thankfully, there's no shortage of unique graduation gifts to choose from that are certain to thrill any high school or college graduate. If you're looking for a high school graduation gift or gifts for a college grad getting ready to enter the "real world" 
There's a memorable graduation jewelry present list for you.
 One necklace style: 4 ways to wear it
   Fishtail pendant and pearl pendant are independent of each other and can be  combined or worn separately.
     2.  Crystal Floating Freshwater Baroque Pearl Bracelet
Freshwater baroque pearls mixed with a beautiful combination of crystals.  The perfect bracelet for any occasion!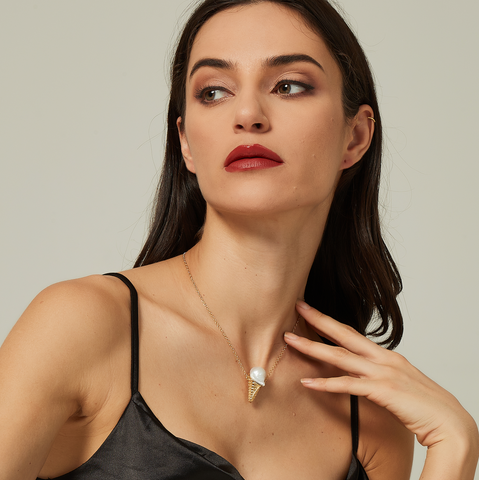 The ice cream necklace is a striking 18K vermeil gold plated silver necklace with a lustrous white baroque pearl.
This is also the most worthwhile investment and purchase of jewelry
Classic Collection|Classic Series
These pearls have a unique pearly luster, which is like a rainbow after the rain and clear weather. The shape is more regular, with less deformation, and perfect round. 
This will be the most classic and best graduation season jewelry gift for young girl
     5.  Asymmetrical Dangle Baroque Pearl Earrings in S925 Silver
Asymmetrical earrings have been growing in popularity and lots of celebrities have been sporting the look. I am sure your daughter will compliment your taste.
All of our jewelry is handmade with care,and we offer free gift-wrapping service.